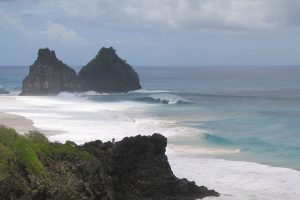 From November to April, Fernando de Noronha is called Brazilian Hawaii. With the wind turning northeast, the oceanic ripples reach the beaches of the Mar de Dentro  (The Inner Sea), the face of the Island where the bottom slope is more accentuated. The first swells remove the sand from the bottom until in February and March the bottoms are already clean and the waves break perfectly on the bottom of volcanic rocks.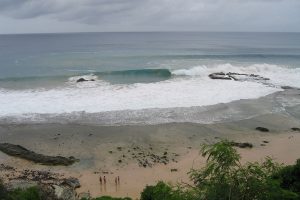 During the high tide period, the best surf conditions are on sandy beaches, such as Cacimba do Padre Beach, Bode's Reef and Conceição Beach. Cacimba do Padre has the largest tubular section in Brazil. They are waves that break to the left, with a thick crest, totally hollow and reach up to 12 feet. It is a nervous surf, because the waves form and break quickly and many close. The wave that breaks to the right on Bode's Reef is a little smaller and less strong than the left wave of the Cacimba do Padre, but it is more perfect and longer. Conceição Beach is one of the most constant peaks, mainly from February onwards. It is a quieter wave, easier to surf and allows a greater variety of maneuvers, reaching up to 8 feet, above that begins to close. On this beach, the waves break to the right and to the left.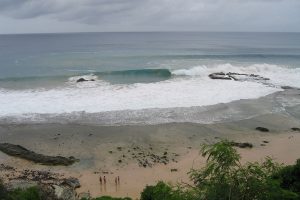 At low tide, it is on the rock bottoms that the waves are more suitable for surfing. The most constant low tide peak of the Island is Boldró's Beach, with waves breaking to the right and left. It is a short and perfect wave. They are usually tubes that range from 3 to 10 feet, without many maneuvers other than beats and floaters.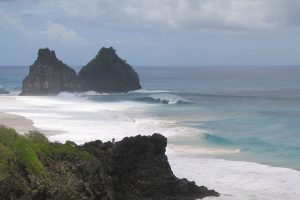 When great ripples hit the Island, Fernando de Noronha's best surfing peaks get ideal conditions. At high tide, Biboca's Beach has waves of 8 to 15 feet, and the Abracadabras Point, in the low tide, has surf conditions with waves between 5 and 12 feet. Biboca's Point, located between Forte dos Remédios Mount and Santo Antônio's Port, is not used by many surfers due the lack of adequate equipment and difficulty level. The Abracadabras, a bay of rocks between the Islands of São José and Rasa, is a perfect wave. When the surfer first looks at this peak, it looks like a difficult wave, because it is big and apparently will close the bay. But it is an easy wave, but do not fall during drop, otherwise you will fall on the rocks. The entrance and exit of the sea are complicated, it requires the experience of knowing the area.
The ideal equipment for a surfing season from five to ten days is two boards, one medium and one large, good quality lash is fundamental, as well as lycra shirt.